Say it Ain't So
Have you ever surfed on a T-1 connection? There are really no words to describe the fabulosity of a fast Internet connection. At least I cannot come up with the words because I get all choked up when I try. I love it. that. much.
And hence, I love my job. Because at my job not only do I get to serve the public and help make our communities safer, healthier places to live, but
more importantly,
at work I have a T-1 connection. And during my two regularly scheduled government-supported breaks of 15 minutes each (no more no less), I use the Internet to catch up on my blogging. I check my e-mail, check my bloglines, and check in with all of you. And I can do it 2-3x as fast as I can at home.
But what's that overused saying...All good things must come to an end?
While at work last week, I tried to open my e-mail and saw this: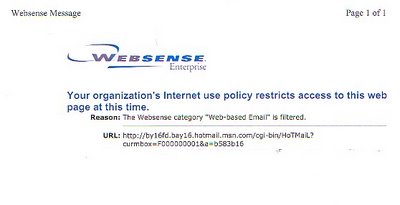 I couldn't believe my eyes. There must be some mistake, I thought. I cancelled out of the page, refreshed, and tried again. No dice. I was locked out of my e-mail. For good it seems.
I'd heard the office rumors about tightened Internet security policies. And I know it's only a matter of time until blogs are on the "restricted" list too.
So I'd like to dedicate this post to the memory of my T-1 connection, which served me well for many months. I'll miss you, my little T-1. I don't know what I'll do without you.
Please excuse me while I take a moment of mourning. *sob*