Co-Sleeping Postscript
Thank you all for your supportive comments on my last post. There was one comment questioning the safety of co-sleeping. I didn't intend to start a debate on it, but I personally feel that the manner in which families choose to sleep together is totally their own business. Also, I do not necessarily think that co-sleeping is dangerous, as long as some precautions are taken (like don't smoke in bed with your baby or go to bed drunk. Heh.). That being said, I am not an expert on the dangers or safety of co-sleeping and I was always a little bit nervous to sleep with my baby because I was afraid he might roll off the bed or that I might pull the covers over him by accident. It never happened, but I guess it could have. But I know many moms who co-sleep and love it and I support them.
Now, while I do support co-sleeping if that's what one chooses, I also support putting a baby in their crib if that works best. And I am happy to report that ever since we put the baby in a crib a few days ago, he has been sleeping like, well, a baby! I can't believe it! The first three days that I put him in the crib were the best nights of sleep I've had since he was born - and he didn't even really cry when we put him down. It was like a miracle or something. I would just nurse him to sleep and lay him down and he would make a few whimpers and fall asleep.
This is like better than winning the lottery. May it continue forever and ever and ever. Amen.
**********
And an announcement...
Green Mom Finds
has a fun new collaboration going with the
League of Maternal Justice
and
BlogHers ACT Canada
called Eco Moms ACT. Each month will feature an eco-challenge with lots of prizes for the winners.
Go here
to find out how to participate in this month's challenge - Go Meatless!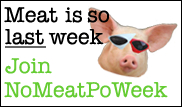 ********
Plus, another great eco-friendly giveaway going on
over here!