Get out your nursing bras. It's time for a virtual sit in!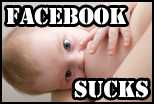 By now you've probably heard that
Facebook is requiring that women remove pictures
of themselves breastfeeding because the pictures are "obscene".
Grr. Even writing that sentence makes me want to squirt some booby milk in the face of a Facebook executive.
Anyhoo, when I heard about this injustice the first thing I wanted to do was stage a huge mommyblogger boob-a-thon wherein people would post pictures of themselves breastfeeding and then all of the links would be sent to Facebook in protest. I figured the more boobage showing the better.
But then reality set in and I realized that, ironically, while I currently have time to breastfeed about 25 times a day, I really didn't have time to set up a mommyblogger boob-a-thon, let alone take a picture of myself breastfeeding.

So...I was so excited when I found out that there is a
team of rebel lactivists
who have set up this very thing - and in a much more impressive and professional way than I ever could. They are hosting the Great Virtual Breast Fest on October 10th at 11am. To participate in this virtual nurse-in, all you have to do is post a video of yourself breastfeeding at that time. Or, if you don't have video, you can send the lactivists a picture of yourself breastfeeding and they will include it in a video montage. If you didn't/don't breastfeed, you can simply write a post about why you support women's right to nourish their children whenever and whatever and in whatever manner they wish. Click on the button above for more information.